DeployIT!
Dec, 2013
DeployIT! is an application to facilitate the distribution of applications to beta testers with easy. What you need is Mac computer, Internet line, and Dropbox account.
Drag the *.app or *.ipa file to application window (process is done on the server), and open DeployIT! IOS application, find the app and press install.

Click here for more detail and screenshot (Available soon)
---
Cloud Spy
Jan, 2012


The easiest way to use your computer camera to spy, controlled from your iPhone or iPad.
Application for iPhone or IPad to capture image from desktop or notebook

camera.
The communication between iPhone or iPad and notebook through Dropbox, but Dropbox client software is not require to installed.
Click here for more detail and screenshot

---
Habit Counter
Jan, 2012

Count Your Habits To Improve Your Life.
Application to help you to count your habit (good or bad), how much you spend for the particular habit monthly, and when the last time you did it or how long it will take for your next habit.
Click here for more detail and screenshot

---
Find My File
Jan, 2012
An iPhone, iPad application to search the file in your PC or Mac. Download file, open folder, and view downloaded file (most popular file is supported), or send to mail. Easy to use and installation, no special network setting required.
Please download the following programs in order the application run properly.

Client (iPhone or iPad) app
FindMyFile or FindMyFileFree The iPhone, iPad application, available in iTunes.

Server Application (Mac or PC)
FindMyFileServer. The server application to serve as
a server in Mac. Available in Mac App Store.
FindMyFileServer (PC Version). This server application to used in PC. Please click the link to download from this website. The application still in beta and only work with Windows 7. Make sure to read documentation about how to install and some notes about search under windows. The server application can download here.
Note: This server version for Window 7 is only work with FindMyFile or FileMyFileFree client version 1.1 or above. Please visit the itunes store for availability of this version.
Dropbox. This cloud software required in order for application run properly, please download Windows or Mac version.
Please read the documentation for more detail how to install and use the app.
Note: although server application can be installed to different PC or mac, but only one server can be activated.
---
Dec 20, 2011

An Mac application to log your notebook battery activities, and will log your battery
usage since last power cable disconnected.
Whenever you unplug the power cable from your notebook, the application start to counting, and it will reset the data whenever the power line is connected.
It will ignore the timing during computer sleep, or computer shut down for usage counting, but still record this activities for reference.
The application available in Mac App store.
Requirement
Macbook, Macbook Pro, Macbook Air with Snow Leopard, or Lion.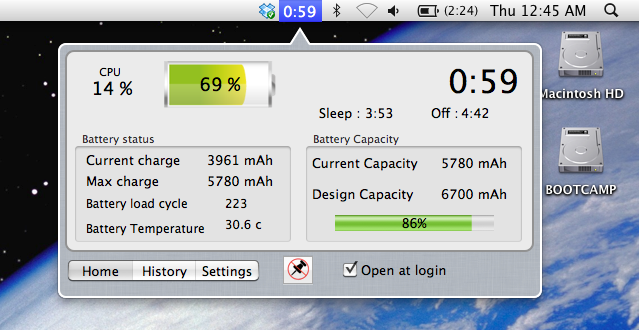 ---
iGymTrack
Fast and easy way to log your workout activities
December 26, 2010
Log your workout activities with easy
1. Choose body part and your exercise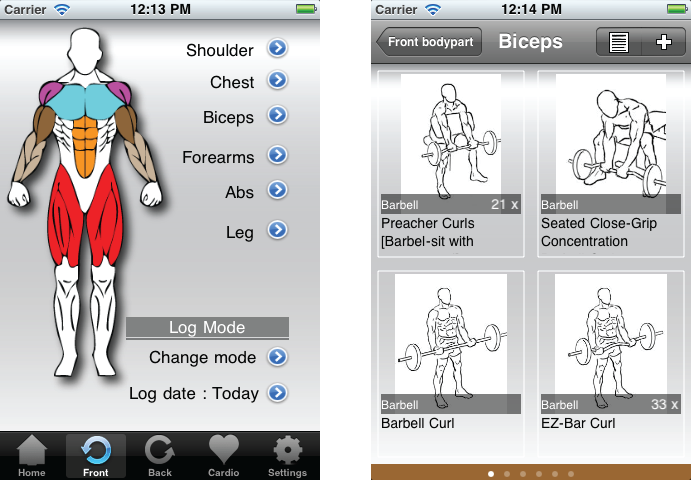 2. iGymTrack will remember your last exercise reps and weight (1). All you need to do is press save set (if the repetition and weight still the same with previous exercise) (2) and you are done.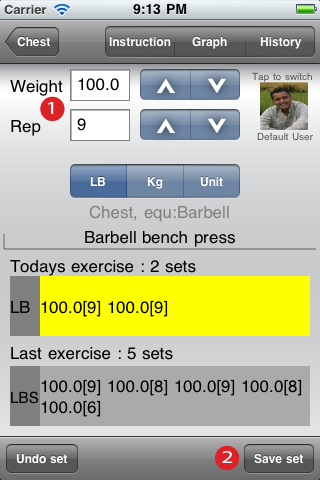 Support online backup
Drobbox support will make easier for you to back up your data or transfer to other system, for example iPad version (will be available soon). You can also send data to friend email address and let them to sync with their own drobbox.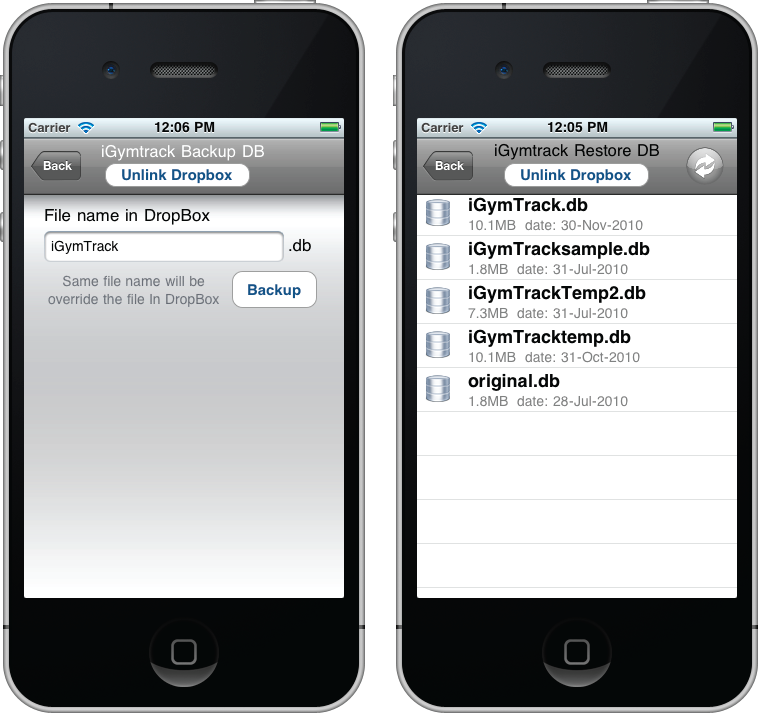 Workout Calendar
Calendar screen will give you detail about your monthly workout activities, such as workout and cardio day as well as your plan day. Monthly summary will display your body part summary for the particular month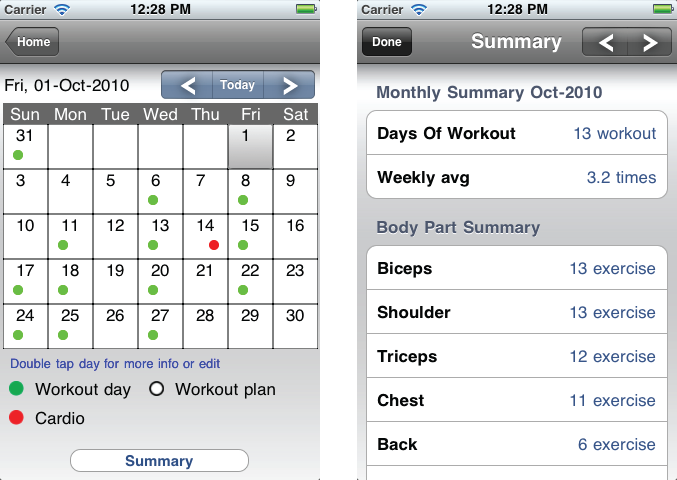 Create your own exercise with easy
If the list of exercise is not satisfy you, you can add new exercise with easy steps. Press plus button from the screen (1) enter the name (2) and choose the equipment (3), save it and you are done. You also can add picture from camera or from internet later when you edit it.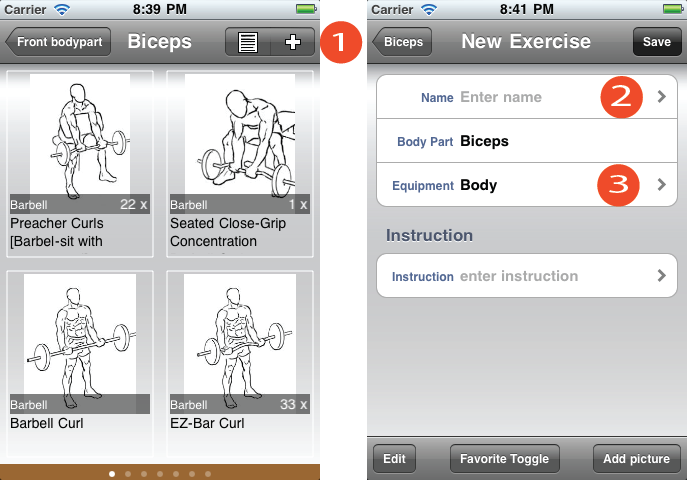 Multiple user support
If you exercise with buddy or you are a trainer and want to log you clients exercises, iGymtrack is easy implement that. Just select or create a user (1) . During workout, if more than 1 user exercise at the same time, you can switch the user only with the single tap (2).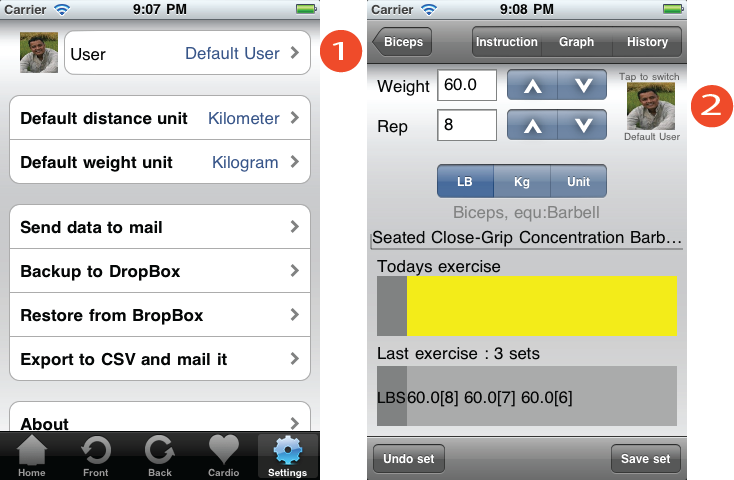 Know you limit before start exercise
Do your next exercise by analyzing you history data. Do not try to use very heavy dumbbell for example. iGymtrack will help you to decide using graph tools.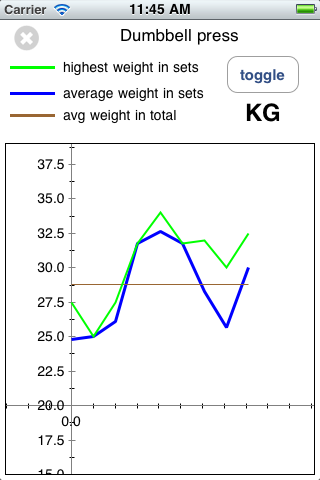 ---
August 15, 2010

* Track your Ramadan fasting
* Record number of days to Qada if necessary
* Move your remaining days to Qada across subsequent months
* Multiple user support for all members of the family, regardless of age or gender
* Help young ones track their improvement and progress in fasting
* Supported for iPad and iPhone
* Users can view both the Islamic and Gregorian calendars
* Voluntary (sunnah) fasting planner.
* Local notification (IOS 4) a day before voluntary fasting day